Special Collections
Edwin Arlington Robinson
Edwin Arlington Robinson (1869-1935) became one of the most important poets in the United States in the first half of the twentieth century, being ranked by one recent scholar with Hardy, Yeats, Frost, Pound, Eliot, Stevens, Crane, and Williams. He was born in the village of Head Tide in Alna, Maine but came to Gardiner, Maine with his parents the following year. His formative years were spent at the family residence of 67 Lincoln Avenue, the city's only listing on the list of National Historic Landmarks. By age twenty he knew that "I was doomed, or elected, or sentenced for life, to the writing of poetry."
In Gardiner he found early mentors, including Caroline Swan, Dr. Alanson Tucker Schumann, and most importantly, Laura E. Richards. He studied at Harvard for two years until the family money was lost. In 1896 he self published The Torrent and the Night Before which he sent to reviewers and friends. In 1897 Laura E. Richards and Hays Gardiner helped him to publish Children of the Night, a work which came to the attention of President Theodore Roosevelt who became an ardent supporter of Robinson, relieving the struggling poet of the necessity of taking odd jobs in New York City. In 1911 Robinson dedicated The Town Down the River to the President.
By 1911, when he was invited to the MacDowell Colony, his fortune gradually improved. In 1922 he received his first Pulitzer Prize for poetry, Collected Poems. He received two more Pulitzers, for The Man Who Died Twice (1925) and for Tristam (1928) — a record number of Pulitzer Prizes surpassed only by Robert Frost. In all, he published twenty-eight books of poetry and several plays in his lifetime.
Locally, he is remembered for his "Tilbury Poems," which although he disputed that they were about Gardiner, certainly evoke the characters found in small New England towns of the late nineteenth century — John Everldown, Eben Flood, and Flammonde being three personalities of mythic proportions. In 1935 his ashes were interred in the family lot at the Oak Grove Cemetery in Gardiner, and the following year a committee headed by Laura E. Richards erected a monument to his memory on the city common.

For a virtual tour of Edwin Arlington Robinson's Gardiner, Maine go to our new website http://www.earobinson.com. Edited by local historian Danny Smith, the purpose of this tour guide is to give basic information about the poet Robinson and the principal places in this community where such visitors can glimpse the Tilbury Town of Robinson's life and poetry.
Laura E. Richards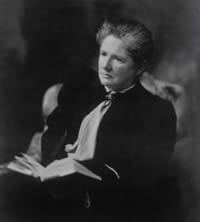 Laura E. Richards (1850-1943), one of Gardiner, Maine's two Pulitzer Prize-winning authors, was born in Boston to eminent parents, Dr. Samuel Gridley Howe, founder of the Perkins School for the Blind; and Julia Ward Howe, social reformer and lyricist of the "Battle Hymn of the Republic." In 1871, she married Henry Richards (1848-1949), architect and industrialist, who returned to Gardiner, Maine in 1876 to manage the family paper mills. Here she wrote more than ninety works, mostly in the fields of children's literature and biography, at the family's celebrated residence, the Yellow House.
Following the example of her parents, Mrs. Richards brought about social reforms and civic improvements in Gardiner including the introduction of safe drinking water, the public health nurse, the hospital, the Red Cross, a new high school, and numerous service organizations, including the Gardiner Public Library. Her permanent contribution to world literature, in the opinion of the Oxford anthology series editors, was that of nonsense verses, including perennial favorites such as "Little John Bottlejohn," "Eletelephony," and "The Poor Unfortunate Hottentot" – verses which "seemed to bubble up from some spring of nonsense" in her own words. Her first publication was a book of nonsense verses, Sketches and Scraps (1881). Other collections included In My Nursery (1890), The Hurdy-Gurdy (1902), The Piccolo (1906), and her final anthology which was in print until a decade ago, Tirra Lirra (1932).
As her own children grew up, she wrote short stories which interested them. These juvenile books appeared as the Margaret Monfort series, the Hildegarde series, and others. Captain January (1890), a best seller, was twice made into movies, and the second time starred Shirley Temple. Among her adult nonfiction works were a two-volume biography of her father, Letters and Journal of Samuel Gridley Howe (1906-09); a joint biography of her parents, Two Noble Lives (1911); and, most importantly, the two-volume biography of her mother, Julia Ward Howe (1915), the first biography to be honored by the Pulitzer Prize. In her own estimation, her best works were two books of fables, The Golden Windows (1903) and The Silver Crown (1906).

In her autobiography, Stepping Westward (1931), she recalls her other important work: the founding of the third boy's camp in the nation, Camp Merryweather, whose campers grew up to become national leaders and her literary mentorship of Gardiner's other Pulitzer Prize winner, Edwin Arlington Robinson (1869-1935). Pictures and a short biography of Laura E. Richards are available at the ReadSeries.com website.
The Community Archives Room
The Community Archives Room houses an outstanding collection of genealogical resources, as well as state, county, and local histories which document the Kennebec Valley region in which Gardiner, Maine is centered. This collection includes important works reflecting the social, governmental, economic, and migrational history of the community.
For decades, the library has maintained an extensive vertical file concerning local people and institutions as well as unique manuscript items. In recent years, volunteers have assembled genealogical files to augment the vertical file. The collection is housed in a secure room for the protection of its rare materials and special indexes.
In the past decade, Gardiner's nineteenth-century newspapers were microfilmed, and James Connor compiled a ten-volume index to the newspaper series extending from the 1840s to the 1930s. Many photocopied materials from the Yellow House Papers of Laura E. Richards are in binders in the Community Archives Room.
The Community Archives Room is staffed by a Special Collections Librarian and our experienced volunteers.  Please call ahead 207-582-6890 to ensure access.
HOURS
Monday
By Appointment
Tuesday
By Appointment
Wednesday
By Appointment
Thursday
By Appointment
Friday
By Appointment
Saturday
CLOSED
Questions?  E-mail us at [email protected].