Library History
There has been a library collection in Gardiner since 1796. The Library building is owned by the Gardiner Library Association.
1881


The present library was built (designed by architect Henry Richards).
1930


The R.P. Hazzard wing was added to become the Children's Room.
1960


The J. Walter Robinson Reference Wing was added.
1977
The Burress Moore, III Children's Room was created using the second floor of the library which had originally been designed as a public hall known as Library Hall and which had been maintained by the Library Association for public entertainments, lectures and balls. It had eventually deteriorated into an attic storage space before being renovated to become the new Children's Room.
1985
The Community Archives Room was added to house the Gardiner history collection and provide a larger space for meetings. This renovation was funded by private monies.
1990
The Victorian Garden in memory of Peg Campbell Shaw was added in front of the R.P. Hazzard wing.
1997
The R.P. Hazzard Room was remodeled to become the R. P. Hazzard Reading Room. The dropped ceiling was removed to restore the original wood beams, molding and ceiling. The main building was also renovated to add an elevator with access to all floors.
2002
The J. Walter Robinson Reference Wing was remodeled to include a handicapped accessible ramp, entrance and restroom.
2006
The Stained glass Rosetta window in the new Children's Room was restored.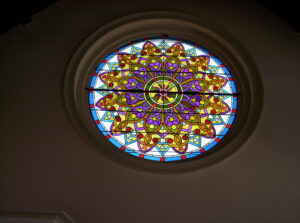 2007
A Special Collections Librarian hired allowing the Community Archives Room, now also housing Farmingdale's local history collection.
2008
The Burress Moore III Children's Room renovations are finished. Renovations included restoration of the windows, removal of the dropped ceiling, exposing the original wood beams, molding and cathedral ceiling. A new furnace and air circulation system was also installed.